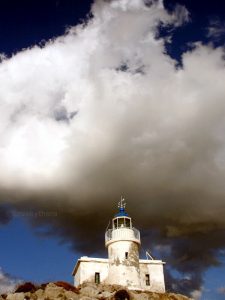 Ο φάρος αυτός πρωτολειτούργησε το 1853 και κατασκευάστηκε από τους Aγγλους. Το ύψος του πύργου είναι 6 μέτρα και το εστιακό του ύψος είναι 65 μέτρα. Εντάχθηκε στο Ελληνικό φαρικό δίκτυο μετά από 10 χρόνια. Δεσπόζει επιβλητικά στην κορυφή του λόφου ανατολικά από το λιμάνι του γραφικού Καψαλίου στα Κύθηρα.
Το 2009 ο φάρος ανακαινίστηκε . Ευτυχώς για μένα,πρόλαβα να βγάλω αυτή τη φωτογραφία πριν την ανακαίνησή του .
Ήταν μια μέρα σαν τη σημερινή με ισχυρούς δυτικούς ανέμους και σποραδικές καταιγίδες.
Η λήψη της φωτογραφίας έγινε την 18η του Απριλίου του έτους 2006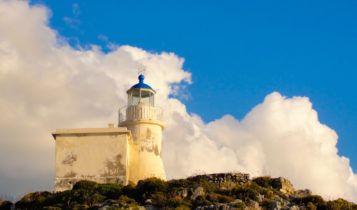 The lighthouse was opened in 1853 and built by Britain. The tower height is 6 m and the focal height is 65 meters. Included in the Greek lighthouse network after 10 years. Towers on the hill east of the picturesque harbor of Kythera Kapsali.
In 2009 the lighthouse was restored. Fortunately for me, I managed to get out this picture before the renovation.
It was a day like today with strong westerly winds and occasional storms.
Taking the photo was April 18th of 2006.